On the Range with Ballistic:
Zero your Rifle with the #1 Ballistic Calculator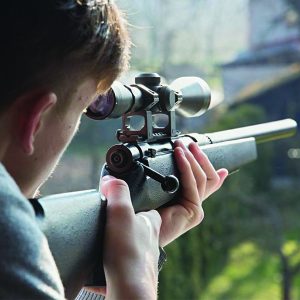 Serious shooters, passionate hunters, and long range competitive shooters are constantly looking for the best possible results from their firearms! The first step begins with making sure the firearm of your choice is zeroed is key to any shot, short or long range.
Ballistics, the industry's premiere ballistic calculator solution, is a must for any serious shooting looking to fine true zero for their rifle. Ballistic is powered by the JBM Ballistics Computer, one of the most accurate ballistic engines available, and comes with a library of 5,300 projectiles and loads, along with performance data from both manufacturers and military testing. In addition, users are also able to upload their own ballistic data, supporting handloaders.
When using Ballistics, you can zero at any range you desire, however most shooters often prefer to zero at 100 yards or 100 meters. The first step to achieving true zero is determining the actual distance to the target.  So, when zeroing in a rifle, make the actual distance to the target has been verified with an accurate rangefinder.
Once you have verified the actual distance to the target, input that distance in Ballistics App under Zero Range. It's important to make sure in Settings the app is set to Yards or Meters so that it corresponds with e units of measurement on your rangefinder. The selected range will display to the right of the distance you have entered next to Zero Range.
When setting up zero on any rifle, it's also important to make sure you enter in the Zero Atmospheric Conditions. This will allow Ballistic App to calculate against the saved zeroed conditions for you rifle to conditions that change throughout the year. So whether it's hot or cold, the Ballistic App will make the necessary adjustments,  giving you the best possible Ballistic Calculations under all shooting conditions.
Ballistic is available as a mobile application, making it portable and accessible anywhere, whether at the range or in the woods. This serious app for serious shooters can be downloaded from the App Store or at Ballisticapp.com.
CONTACT