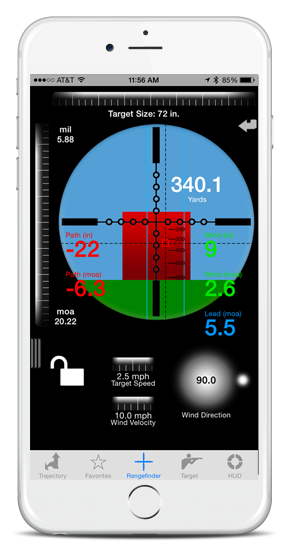 ABOUT
Ballistic is the definitive ballistics trajectory calculator for iOS devices, intended for serious shooters who want a serious (and seriously accurate application).

Ballistic calculates trajectory, windage, velocity, energy, lead, and bullet flight time for any valid range. Ballistic can compensate for atmospheric conditions such as temperature, barometric pressure, humidity, and altitude (it can also accept density of air or density altitude input).
It's also much more than a basic trajectory calculator. With a vast library of over 5,000 projectiles and factory loads, and advanced features - Mil-Dot and MOA rangefinder with head-up display capabilities, GPS and atmosphere awareness, full size charts, reloading companion, precision target log, and option HUD for mounted firing - Ballistic is a complete precision marksman tool for hunting, at the range, or at home with your hand loads.
The world renowned JBM Ballistics computer powers all of Ballistic's computations. JBM is used by world-class shooters everywhere to deliver some of the most precise calculations. You'll even be able to take JBM's extremely accurate calculations with you, even into areas with no cellular coverage.
Long Distance For Serious Shooters
TESTIMONIALS
"Great app. Helped me prepare for my antelope hunt in Wyoming. Having some for dinner tonight at my friend's restaurant. Thanks again."

George (New York)
"I shoot on Team Louisiana Precision Rifles in Tactical rifle matches. Everyone on the team that uses Ballistic has had great results.We travel to various states so there is no way you can get DOPE at all the various DA's... This program has really been a game changer."

Bannon (Louisiana)
"This is a great ballistic app. It adjusts for environmentals well if your within cell phone service. You can always manually input the data from a Kestrel or other weather meters. I really like the way it uses the iPhone for the LOS angle."

Middletoee
"I have used many different ballistic apps, this app is by far the most user friendly. The fact that you can load your different rifles and compare energy is huge. I have found the calculator to be very accurate. It helped me harvest a deer at 853 yds with a 30 degree down
hill angle."

Shooter2medic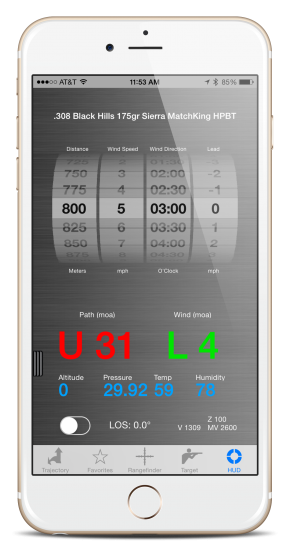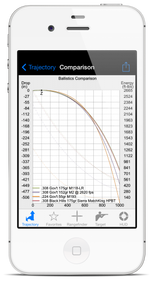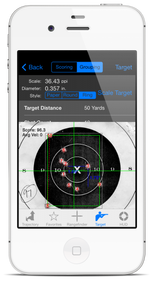 OUR FEATURES
JBM BALLISTICS
The JBM Ballistics computer, written by James B. Millard, is among the world's finest ballistic engines in existence.
Used by competition shooters, hunters, and the military, this powerful ballistics library delivers precision results.
The JBM engine also adds new features such as velocity adjustments for chronograph, optimum point blank range, upwind (z-wind) correction, and midrange/downrange wind sources.
OUR VAST LIBRARY
5,000 projectiles, factory loads, military loads, and performance data points from leading manufacturers, military testing, and performance testing.
Specify your own projectile properties.
Includes the latest commercial data and several G7 military coefficients from Aberdeen Proving Grounds, as well as Bryan Litz custom G7 BCs and projectile length data.
ADVANCED WIND KIT
The Advanced Wind Kit (tm) takes full advantage of the JBM ballistics engine's wind capabilities to allow pro shooters to account for nearly any possible wind scenario.
The Advanced Wind Kit (tm) allows users to easily and quickly program in even the most complex wind scenarios for up to eight wind sources.
Simply tap to create a new wind zone and then slide it to the appropriate range.
BALLISTIC CHARTS
Ballistics charts allow you to display the energy, velocity, and drop for your current projectile, or compare up to eight projectiles together on the same screen.
Your current atmosphere and zero are automatically applied to all projectiles, so you're comparing apples to apples.
Compare bullet path and energy or wind drift. Ballistic will also show you trajectory charts based on altitude or shooting angle.
VIDEOS
Quick Start Video
This video will teach you the basics of the Trajectory screen, and what you need to know to calculate an accurate trajectory.
Using Rangefinder
This short video will show you how to easily import a photo from the manufacturer's website to create your own custom optics profile and how to calculate ballistics.
Truing Tool
Ballistic's Truing Tool is designed for the shooter using trusted and proven data to automatically calculate minor changes impacting actual muzzle velocity.
APPLICATIONS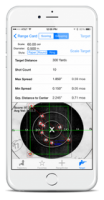 All the features of Ballistic Standard Edition, plus ...
Designed for advanced shooters, law enforcement and military personnel
Advanced Head-up display (HUD) for real-time angle acquisition and one-touch atmospheric correction
Bryan Litz's custom G7 ballistic coefficients
3D Trajectory Imaging for visualizing bullet path in a 3-dimensional layout
Mil-Dot Rangefinder w/ Ballistics
The Advanced Wind Kit (tm) for creating complex wind simulations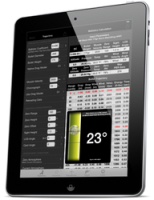 All the features of Ballistic Advanced Edition, plus …
Fully integrated split screen ballistics, favorites, and range log
Automatically updates ballistic calculations as you edit
Full-screen, hi-resolution charts
Full-screen 3D trajectory imaging
Rotate in any orientation
Larger target sizes in range log
Full-screen HUD (Head-Up Display) with real-time angle acquisition
Full-screen Mil-Dot rangefinder ballistics with additional on-screen controls and information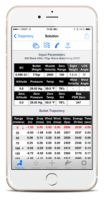 World renowned JBM Ballistics engine for the most precise, accurate calculations in the industry
Load library of over 5,000 commercial and military projectiles and factory loads
One-touch atmospheric correction
Ballistic charts to show drop, energy, velocity and compare wind drift
Target log to keep a journal of all hunts, shoots, scores, and groupings
Estimate distance using Mil-Dot or MOA reticle measurements
Angular acquisition and adjustable units to calculate your own ballistic coefficients
CONTACT