On the Range with Ballistic:
The Industry's Premier Ballistic Calculation Platform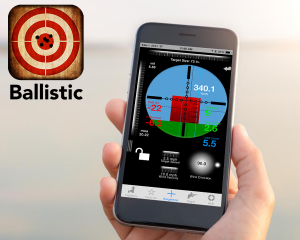 Ballistic offers long-range shooters the premier Ballistic Calculation Platform used by hundreds of thousands of shooting competitors, hunters, and handloaders. But there's no need to take our word for it.
No less that Gun Digest, arguably the nation's top firearms publication, rated Ballistic the top ballistic apps on the market. Gun Digest noted that Ballistic,
"And when it comes to these incredible programs there are few – if any – that hold a candle to Peak Studios' Ballistic. The iPhone/iPad application might be the most complete tool developed for precision shooting to date."
The popular shooting website, Range365.com, featured Ballistic in the article, "Long Range Made Easy," and specifically applauded the many superior features built into Ballistic.
"No wonder Ballistic has received such high praise from actual app users. Unsolicited praise, it should be noted, like that from "AxeDarren," who wrote to tell us his Ballistic app was, "Easy and straightforward to use, best of all it's very true to calculations in the field. I mainly use it out to 600 yds for my 7mm Rem and find it spot on."
Or this from "NateDaySpring:"
"This app has almost anything one is looking for, when looking at these kinds of apps! Constantly updating in order to provide up-to-date information regarding all types of bullets. Highly recommended if you are looking for a great ballistics app!"
"Tenacstud" rated the Ballistic app, "The most comprehensive shooting app on the market…It's the only shooting app you'll ever need."
Ballistic is the premier ballistics calculator available today in no small part because the team behind Ballistic is constantly working to improve the app -and your shots downrange!
For more information, please visit – www.ballisticapp.com.
CONTACT